Macallan
Edition No.3 48.3% NV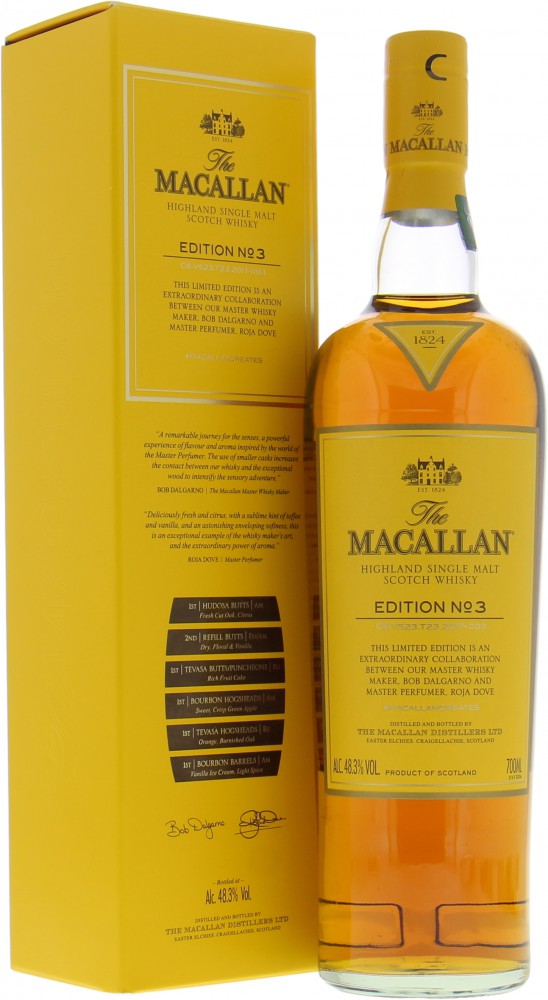 | | |
| --- | --- |
| Distillery | Macallan |
| Bottler | OB |
| Serie | Limited Release |
| Bottled for | X |
| Distilled date | Not Specified |
| Bottling date | 2017 |
| Country | Scotland |
| Region | Speyside |
| Age | NAS |
| Cask Type | X |
| Cask Number | X |
| Alcohol percentage | 48.3 |
| Volume | 0,70 |
| Condition | In Original Container |
| Stock | 0 |
Professionele reviews
BOW (88)
Tasting Note by The Producer

Nose: Reminiscent of a fine fragrance, the nose leads with vanilla ice cream, fresh cut oak and delicate florals. Orange oil provides subtle grandeur while ginger, cinnamon and nutmeg flit in and out in various guises. Vanilla imparts sweetness, leading citrus fruits forward then allowing chocolate to show. Burnished oak delivers a soft ending.

Palate: Sweet fruit, vanilla and rich fruit cake with suggestions of apricot, pear and crisp green apple. Hints of ginger and cinnamon are balanced with a light resinous oak finale.

Finish: Long, sweet and fruity, leaving a lasting impression on the senses.
OTHER (87)
whiskynotes.be:

Nose: lighter sherry this time, with a bit more fragrant bourbon oak in the mix. Perhaps more plain wood aromas if you like. Citrusy notes, blending nicely with some flowery touches and apricots. A little vanilla and cinnamon. Heather honey. Mouth: again quite elegant and polished. Light toffee, fruit cake, lemon juice. A toasted note mid-palate before it goes to apples, vanilla and soft resinous herbs. Warm wood spices (especially ginger). Quite a lot of subtleties here. Finish: medium long, spicy, but also honeyed.

The floral notes and fresh oak give this a slightly perfumed nose indeed, without overdoing it. Light, fresh and complex, the nose is definitely the best part although the palate doesn't disappoint in any way. Among the best Macallan expressions of the past few years. Most reviews still favour No.2 but I like this one just as much.