Rosebank
20 Years Old Rare Malts Selection 62.3% 1981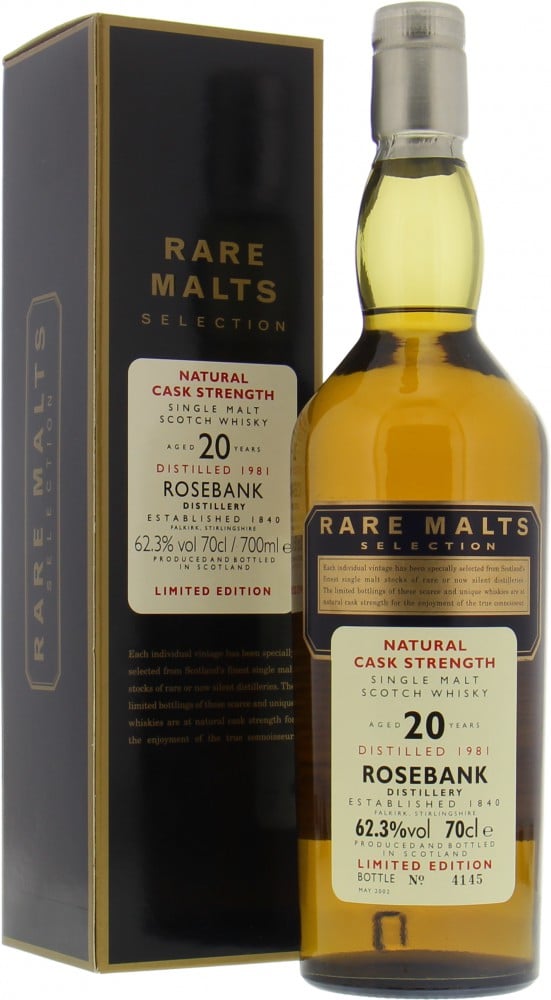 | | |
| --- | --- |
| Distillery | Rosebank |
| Bottler | OB |
| Serie | Rare Malts Selection |
| Bottled for | X |
| Distilled date | 1981 |
| Bottling date | 05.2002 |
| Country | Scotland |
| Region | Lowlands |
| Age | 20 |
| Cask Type | X |
| Cask Number | X |
| Alcohol percentage | 62.3 |
| Volume | 0,70 |
| Condition | In Original Container |
| Stock | 0 |
Professionele reviews
Serge Valentin (88)
Colour: straw.

Nose: ouch! A high-octane malt, with a little lemon indeed but so strong that you can't really nose it just like that, unless you want to 'suicide your nostrils'. So, with water (at roughly 45%): lots of lemon indeed (including rubbed zests), fresh mint, moss and fern just like in the Daily Dram, a little paraffin and lamp petrol, wet stones… There's also a little apple juice, beeswax, heather honey… Quite austere and a little 'rigid' but very elegant. Excellent but maybe not for everyone.

Mouth (neat): more drinkable than noseable at such high strength, very lemony, but let's not play with our palate. With water: yes, it's excellent, very elegant, very close to the Daily Dram now. Maybe a little spicier, with more pepper, and certainly less 'tropically fruity'.

Great, long finish, on lemon and high-end green tea, with quite some pepper.
Another excellent Rosebank.